It's summer + I wanted a maxi dress + I have short legs = I make my own.
This one, to be exact, cause it's purdy!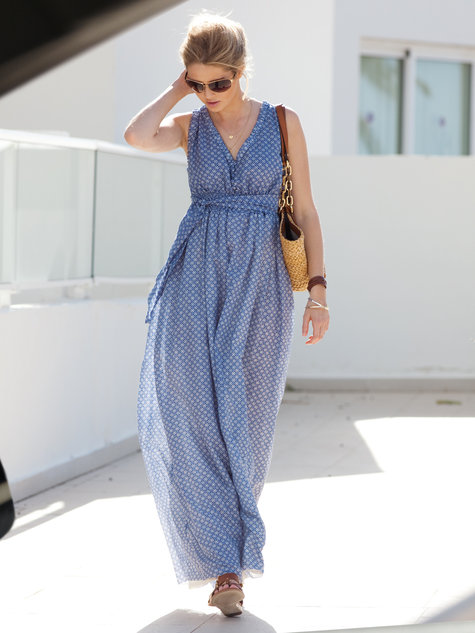 Smocked Maxi Dress 4/2013 #125, from BurdaStyle
The measurements seemed like they should be just fine, other than the length adjustments I knew I would have to make. So I just dove right in. I got the bodice done, and it was beautiful, but way too big. Like, the shoulder straps sliding off my shoulders too big. The arm holes are gimongous, too big. Who has tatas this size, too big.
I took it as a cue to finally draft myself a sloper based on my actual measurements. I used a tutorial on youtube for a very basic sloper, and I measured in centimeters. For one, the video used metric, and it's just more precise. Additionally, I have no idea what 50 cm actually is, so it's a good, honest way of measuring myself.
I traced my new sloper onto some vellum, and began marking points based on the Burda pattern. I marked the depth of the V-neck, and where I wanted the shoulder straps to land. I matched the width of the straps, and matched the armhole of the Burda pattern to that of my sloper. Here, you can see all the changes I made. The original sloper in purple, and the pattern in blue.
And here's a comparison between the original pattern pieces and the modified ones.
The bodice ended up a little too long in the back, and I'm not quite sure why. It's still wearable, but I need to figure it out! I love this pattern, and it may be the first of many more maxis for me.